Unleash Your True Potential
Tools for a better life
365 Days of Accountability
Join the mailing list
365 days of accountability
The key to success doesn't lie in extraordinary luck, but in
extraordinary accountability

– it's in the power of 'I will' rather than 'I wish.'
---
The last few years have battered our sense of certainty. For me, the isolation and disruption of the pandemic led to some of my darkest days. Like many, I found myself adrift - overwhelmed, uncertain, and disconnected.
Yet in those difficult moments, I rediscovered my inner resilience. I began to question why my motivation always seemed to wane despite my ambitions. Why did my goals constantly fall short? Was it a lack of willpower, unrealistic expectations, or something deeper?
The more I reflected, the more I realized I lacked a core element that can lift us from our darkest places - accountability. I felt I had no one to share my aspirations with, no one to celebrate my wins, and no one to support me through inevitable failures. I was on my own, and it wasn't working.
But realizing I needed support transformed my mindset. Committing to accountability empowered me. It led me to develop 365 Days of Accountability - a platform for anyone seeking to manifest their potential.
This site is for all those who are looking for support along their journey, who yearn to actualize their dreams but struggle to find the way. Know that you have already shown resilience by seeking growth. And accountability can light your path forward.
If this resonates with you, read on. Within, you'll find a blueprint for accountability - tools to build a support system to help you defy doubt, exceed expectations, and achieve your goals.
My journey is proof that when we embrace accountability, we become the best versions of ourselves. Let me walk with you.
- Mark Levy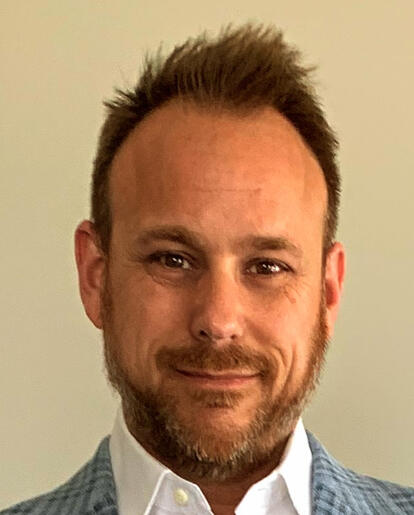 BLACK FRIDAY SPECIAL!! 30 Day Free Trial
The Daily Challenge
Every morning is a 3-second inspirational insight and a challenge for the day. Every day is better than the previous.
The right message at the right time with the right direction. - Jeff M.
BLACK FRIDAY SPECIAL
Offer Available Through November 27
In today's fast-paced world, feeling overwhelmed and stressed is easy.
You're juggling work, family, and personal goals, and it can often feel like you're running on empty.You're not alone in this. I've been there, too.Many people are searching for a daily dose of positivity to help them navigate through their busy lives.
The constant pressure and stress can take a toll on your mental health.
It can lead to burnout, anxiety, and a feeling of constant fatigue.You might struggle to stay motivated, keep pushing through, and find that spark of positivity that used to come so easily.It's not just about feeling low; it's about the impact this has on your productivity, your relationships, and your overall quality of life.
That's where The Daily Challenge comes in.
A daily text message that sends you encouraging and supportive messages.Think of it as a daily dose of positivity, right in your pocket.
The messages are designed to uplift your spirit, remind you of your worth, and inspire you to keep going, no matter what.It's not just about words; it's about creating a positive mindset that can transform your day and, ultimately, your life.
Join today and let this be the beacon of positivity you need in your life.
Because everyone deserves a little encouragement, and here its given to you, one message at a time.
BLACK FRIDAY SPECIAL
Offer Available Through November 27
7-Day 30-Day Free trial
Only $3.99 per month thereafter*
Available in US and Canada only.
*Text message charges may apply. Cancel anytime.
Supercharged accountability
The Accountability Team Handbook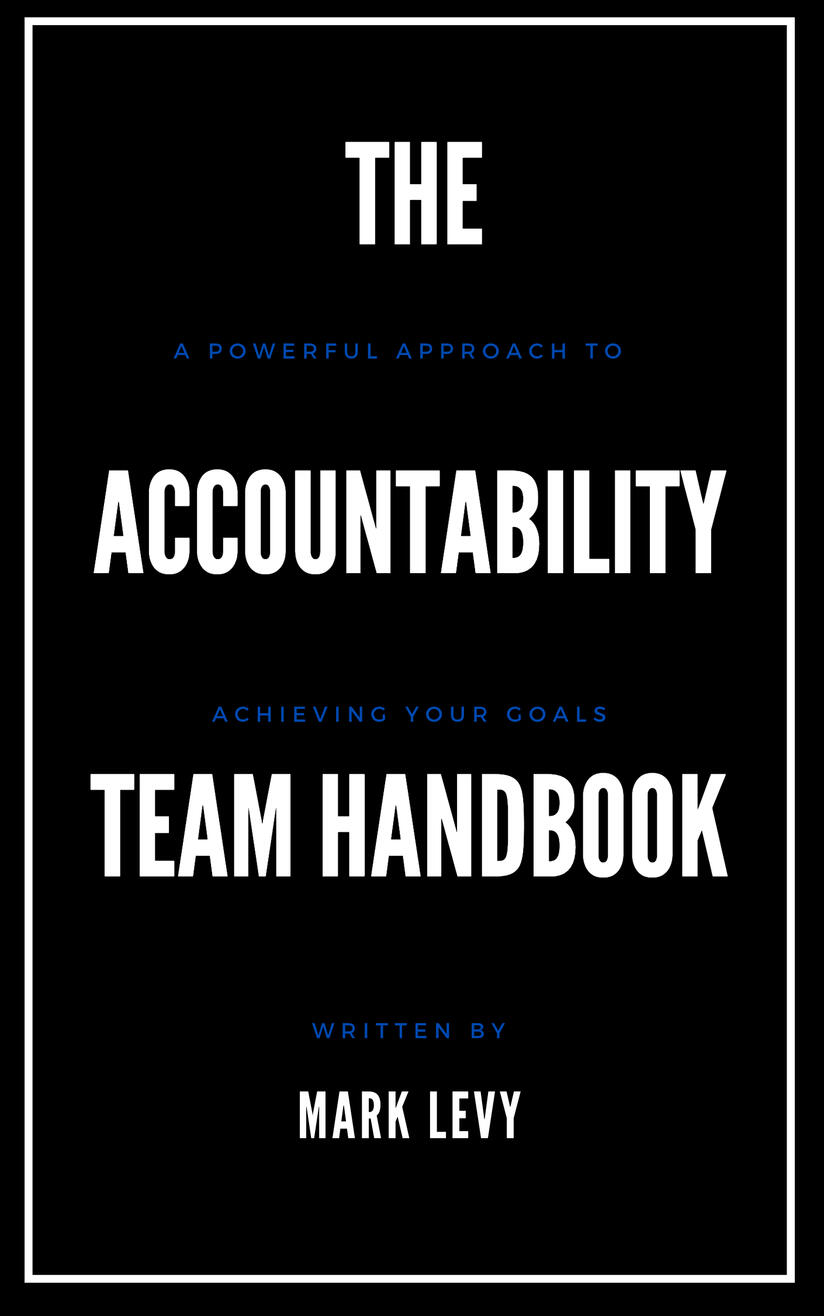 Levy has taken a powerful concept and made it exceedingly approachable. With its blend of storytelling, research, and practical frameworks, "The Accountability Team Handbook" succeeds in its mission to inspire readers to try this collaborative approach. - B.W.
Transform Your Goals from Daydreams into Reality with the Power of Accountability Teams
Do you ever set ambitious goals only to lose motivation when the going gets tough? You start strong, but your commitment slowly fades. Progress stalls. Excuses creep in. Suddenly that goal feels out of reach.
If this sounds familiar, you're not alone. Sticking to personal goals without support is hard. Our drive and discipline waver. Rationalizations sabotage progress.
But what if you didn't need superhuman willpower? What if you had a team by your side, keeping you focused and accountable?A team invested in your success. Who celebrate your wins, push you through challenges, and make your goals feel achievable.
This is the transformative power of accountability teams.
And in my new book The Accountability Team Handbook, I break down exactly how to harness this power by creating your own accountability team.
Backed by academic research and my own journey, I guide you through:
- Forming an accountability team purpose-built to achieve your goals- Setting expectations and guidelines to maximize effectiveness- Maintaining momentum and overcoming common team challenges- My signature daily "Accountability Exercise" to stay on track- Boosting team camaraderie and trust through shared experiences
You'll gain the tools to turn your personal ambitions into realities with accountability teams.
The days of struggling alone are over. Shared purpose breeds results. Support and encouragement cultivate growth. Your goals are waiting; you need the right team to unlock them.
Get your copy of The Accountability Team Handbook and construct the foundation for success today. Because dreams only remain dreams until you take action.
I have read and practiced or attempted to practice many of the habit-based books to shape my behaviors. But, I never seemed to stay the course - This book provides a very easy-to-adopt approach. One that I believe I will stick with over time. - Tobin T.
I love The Accountabilty Team Handbook! I truly believe it will help me achieve my dream of writing and publishing a book. - Mary P.
With an accountability partner, your chance to succeed is 65%. Make it regular, and soar to a remarkable 95% - consistency is key to achieving your dreams!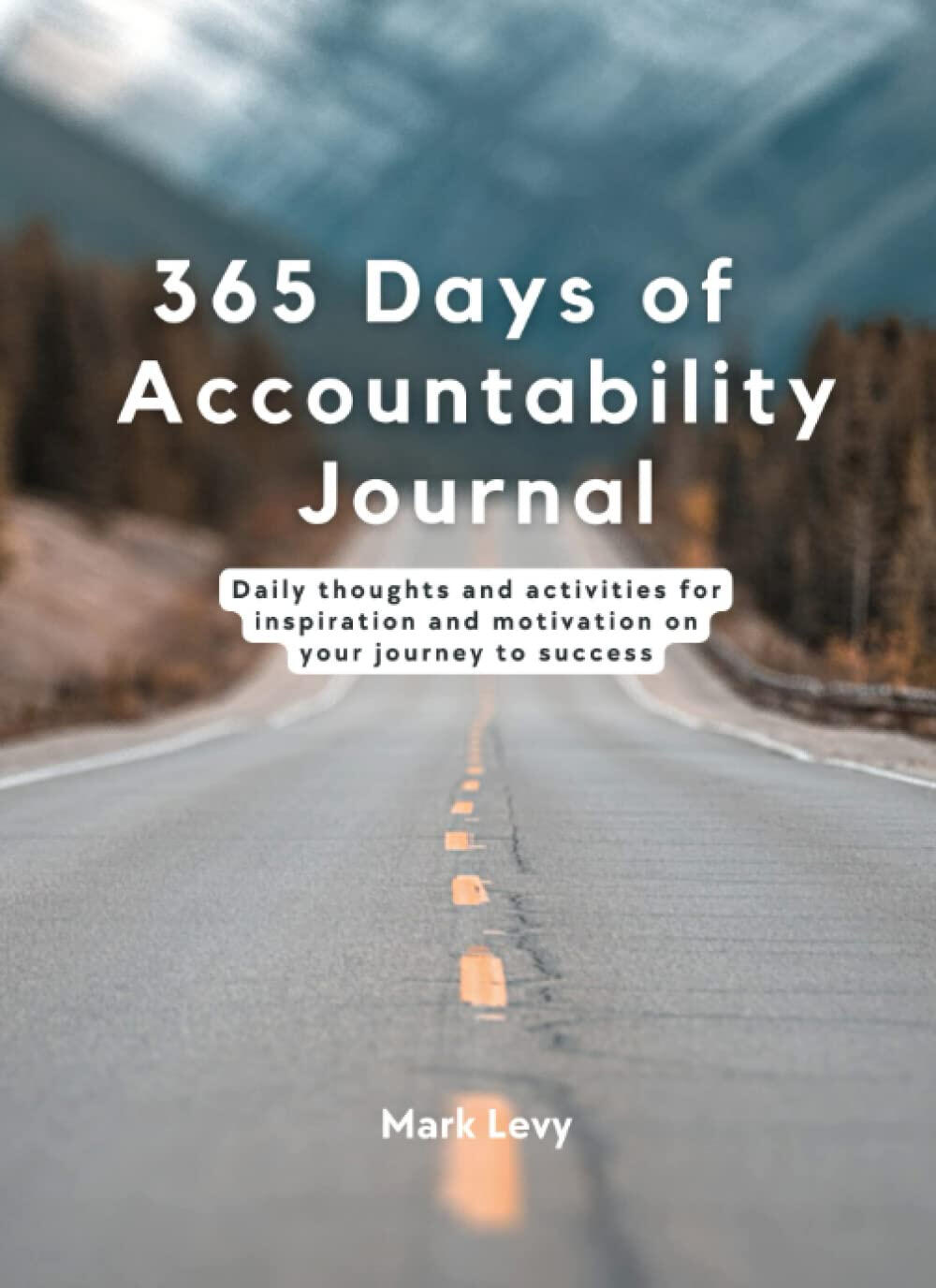 Daily Exercise
accountability journal
Unleash your potential - with the Accountability Journal.A catalyst for mindfulness, productivity, and perhaps the utmost leverage to achieve your biggest goals.It bakes in the quintessential Accountability Exercise that manifests concrete results.
Your book is it's as revitalizing and transformative as a year's therapy -- for only $20!- Sunny P.
---
Daily Motivation
Accountability Calendar
Daily motivation, perspective, and resilience, like vitamins for the soul. Each page offers a new opportunity for self-reflection and progress.
Keeps me accountable in just 5 seconds a day - Anthony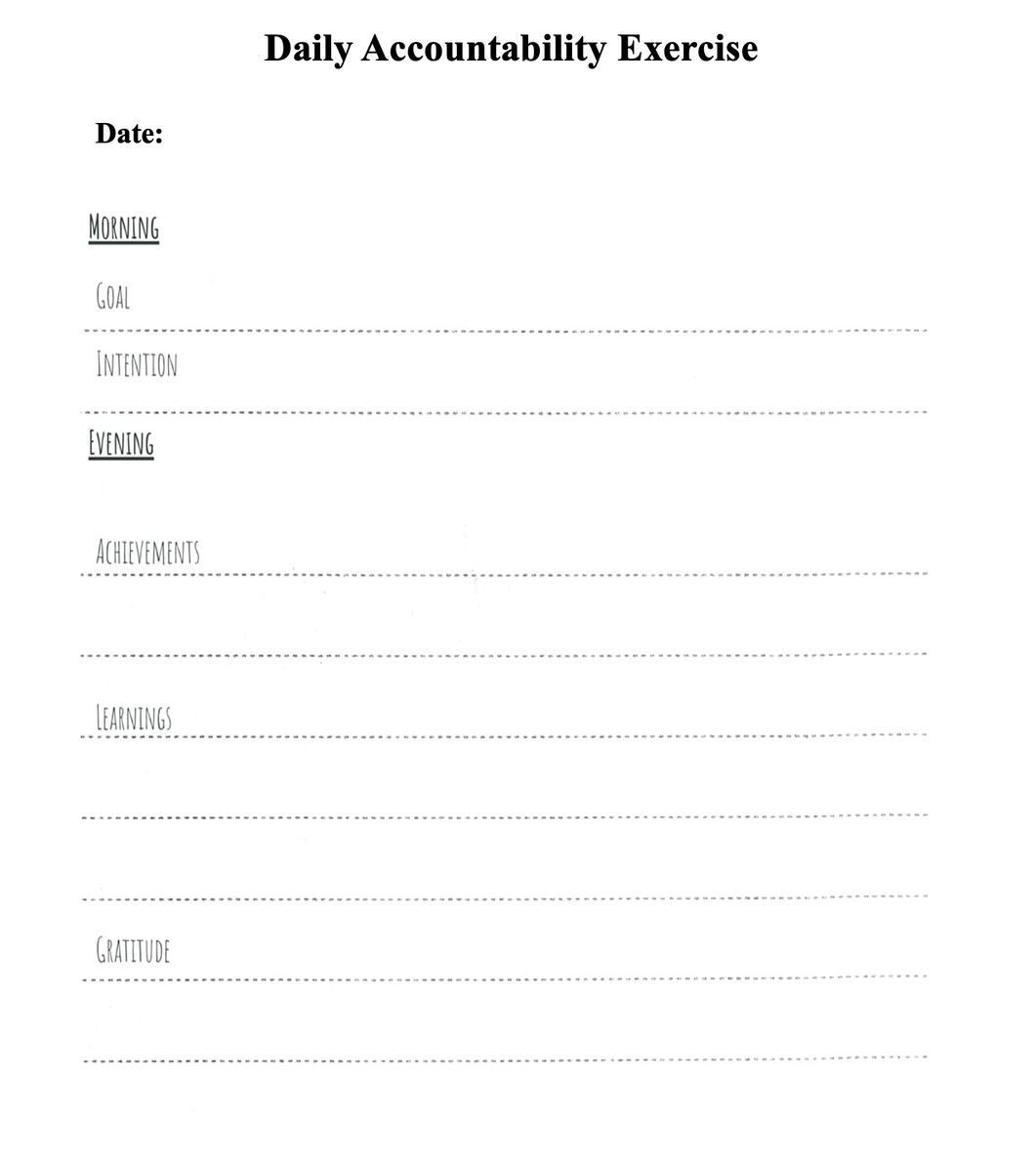 I just finished my first run in a long time. Don't think I could have done it without the Accountability Exercise. - Gianni G.
Free Download
The Accountability Exercise
Looking for enhanced focus, increased productivity, personal development, improved decision-making, calm in chaos, and daily energy boost?The Accountability Exercise is a daily practice that aids you, reflects your actions, and when cultivated, leads to remarkable personal growth.
"The Accountability Exercise really helped me through a very tough time. I think I would've been lost without it. What was powerful for me was setting daily goals as big or small as I needed. It helped me prioritize my emotional and mental health and set goals." - Bill
Copyright (c) 2023 MaxxoMedia, LLC